Energy efficiency and process acceleration for the chemical industry -
Smart Mini-Plants for the development of efficient continuous separation processes
In the ENPRO-SMekT joint project, continuous processing methods are being developed to produce special products on a mini-plant scale. In addition to apparatus development and demonstration for evaporation, continuous crystallization, and continuous solid/liquid separation with crystal washing, the focus is also on developing non-invasive measurement technology. The energy and resource requirements of innovative continuous separation processes are quantified with the aid of novel tools.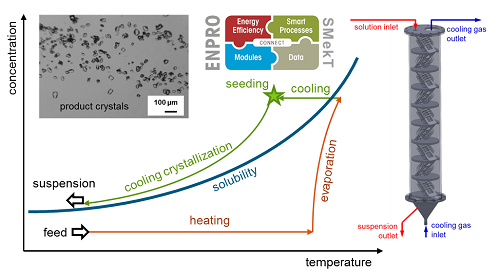 Information on the project
Contact
Prof. Dr. Norbert Kockmann
Professorship
Laboratory of Equipment Design (AD/BCI)
Funding
Bundesministerium für Wirtschaft und Energie (BMWi), Projektträger Jülich (PTJ)
Partner
TU Dortmund, Lehrstuhl für Anlagen- und Prozesstechnik (APT);
Karlsruher Institut für Technologie (KIT), Institut für Mechanische Verfahrenstechnik und Mechanik (MVM);
Karlsruhe Evonik Industries AG, Hanau HiTec Zang GmbH;
Herzogenrath SONOTEC Ultraschallsensorik Halle GmbH, Halle/Saale
Term
from 01.07.2014